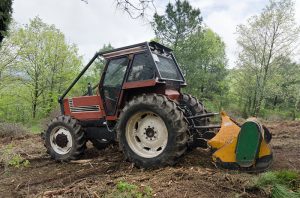 Why Buy Loftness Carbide Cutter
One of the crucial things when it comes to buying the machine tools is quality. The quality of tools is a factor that determines a number of things including longevity and cost of operating with these tools. If you are buying Loftness mulcher tools, we recommend that you got for carbide tipped cutter tools. That's because there are many benefits that come with carbide tipped mulcher. But what the major benefits that can you get from Loftness carbide cutter.
In this post, we are going to look at some of the reasons why you need to consider investing in Loftness carbide cutter. Here some of the major benefits of carbide tipped Loftness carbide cutter, Check out the following.
Incredible High Hardness and strength
Loftness carbide cutter tools offer high strength and hardness features. These are features that enable you to handle even the toughest mulching conditions. If you are doing forestry mulching, then these are the kind cutter tools as they will enable you to handle even the most difficult vegetation. These kind of teeth are also good for mulching fields with debris and other foreign particles such as stones and bottles. Such surfaces are difficult to mulch with the typical mulcher teeth. However, it is important to note that there are various qualities of carbide hence the level of hardness and strength. Tungsten carbide is the most recommended.
High Performance
Another reason why you need to consider investing Loftness carbide cutter is their high performance. These cutter tools are designed to offer incredibly high performance in all conditions. The reason is that they can withstand the most abrasive condition and still retain sharpness for a longer time. Therefore, you'll be able to mulch at peak performance for an extended period.
High Wear and Abrasion Resistance
Carbide cutter tools offer the best wear and abrasion resistance properties. It is the kind of material that is not affected by the abrasiveness of the mulching condition. In addition, it is not affected by the amount of heat generated at the tip of the teeth. Therefore, by investing in Loftness carbide cutter, the problem of excessive wear and abrasion is completely solved.
Extended Lifespan
Last but not least is the extended lifespan of the teeth. With the hardness that carbide comes with and the wear resistance features, there is no doubt that Loftness carbide cutter is the kind of mulcher that will last for long.  That simply means you will spend less in the replacement of your mulching teeth.